Contact Us
Need a personal consultation?
Module I: June 10 - 12, 2021
Module II: June 15 - 18, 2021
Developing Future Leaders imparts contemporary knowledge and skills necessary for young managers to become effective in the roles as future leaders of their organisations. The transformational 7-day modular programme provides an opportunity to explore individual strengths, increase understanding of effective leadership and refine strategies for a sustained advantage.
Through a unique blend of case studies & simulation, the programme draws focus on developing greater confidence, creativity, resourcefulness, initiative and solutions-finding and problem-solving capabilities so that high potential executives can operate and perform at a higher strategic level and drive organisational performance.


LIVE VIRTUAL LEARNING FOR EXECUTIVES
The intensive 7-day modular programme is intelligently adapted to live virtual format imparting a brilliant mix of theoretical concepts, insights from practice, constructive tools and techniques in a highly interactive and engaging e-learning environment.
The participants get direct access to LUMS faculty and engage with peers through interactive class discussions, simulations, role-plays and experiential group exercises that helps reinforce learning and networking among the group.
BENEFITS FOR PARTICIPANT
Gain insights into personality characteristics and learn how personality influences effectiveness as a leader and a team member

Identify personal leadership style, assess strengths and weaknesses and become a more effective leader

Understand how to influence team dynamics, team performance and how to lead with an impact

Understand the essentials of managerial decision making and problem-solving

Sharpen ability to understand the use of financial indicators to assess and drive organisational performance

Learn how to communicate with impact and efficacy




BENEFITS FOR ORGANISATION
Development and cultivation of high-potential middle cadre in your organisation

Participants return from the programme with greater confidence and drive to succeed

Enhanced team performance resulting from improved managerial and leadership perspectives

Enhanced communication and networking skills translating to increased productivity
The programme is designed for mid-level high potential managers with 3 - 9 years of work experience. It is ideal for:
High achievers moving forward in the organisation on the fast track

High potentials that are being groomed as functional heads/team leaders

Executives who are motivated to invest in reinforcing their leadership potential with a strong foundation of skills and knowledge

Mid-level professionals from engineering, consulting, IT and other technical backgrounds who need to evolve their leadership and general management capability
Programme Director
Co-Programme Director
Additional Faculty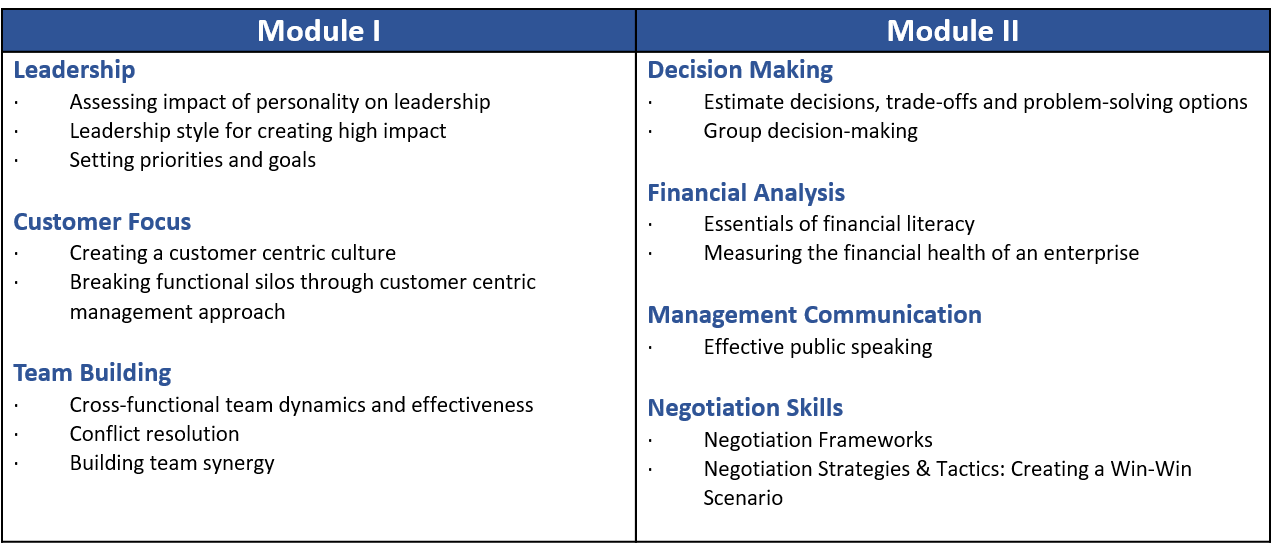 | | |
| --- | --- |
| Programme Fee | PKR 140,000 |

* Programme fee includes tuition cost and reading material

ADMISSION PROCESS
Applications will be screened with regard to their suitability for the programme. Kindly ensure the submission of your online application by the deadline. Our online application form is available at https://redc.lums.edu.pk/programme-calendar.

*Seat in the programme will be reserved on a first-come, first-served basis.

PAYMENT
Payment is due upon receipt of the acceptance email/letter along with the invoice. Please ensure that the payment reaches the office BEFORE the start of the programme. Space in the programme may only be ensured after we receive the fee.
Payment can be made directly through:
Debit/credit card by visiting https://pay.lums.edu.pk You can process the payment by selecting REDC payments from the Payment Type Section and entering a valid voucher number and access code mentioned on the voucher. Additional bank charges may apply.

Cash, Crossed Cheque or Pay Order/Bank Draft made in favor of "Lahore University of Management Sciences" at any United Bank- Limited (UBL) branch against the programme voucher.
Our preferred mode of payment is by debit/credit card and crossed cheque/banker's draft payable to "Lahore University of Management Sciences". However, the programme fee can also be paid via bank transfer.
If you wish to dispatch the cheque directly to our office, please send it to:
Manager Marketing
Rausing Executive Development Center
Lahore University of Management Sciences
Opposite Sector 'U', DHA Lahore Cantt Pakistan
(+92 42 3560 8243)
* LUMS is a not-for-profit organisation under the Income Tax Ordinance 2001. Accordingly, the income of LUMS is not tax deductible/collectable.
DISCOUNT POLICY
If more than two executives from the same organisation participate (up to a group size of 5 participants), each additional participant after the first two gets a 20% discount on the programme fee.

SUBSTITUTES/TRANSFERS AND REFUNDS
If you are unable to attend a registered programme, we will accept a substitute until 2 working days before the programme. Substitute candidates will be subject to the same selection process as the original one. If you wish to cancel your name from a programme, please notify in writing or on call at least 5 working days before the programme. In case of late cancellation, the programme fee will be refunded after deducting an application processing fee of PKR 40,000.
It is possible to transfer deposited fee to any open enrolment programme within 3 years. Transfers should be notified at least 5 working days before the programme. In case the participant or sponsoring organisation fails to utilise the funds within 3 years, the deposited fee will be forfeited.
Note: REDC may cancel or postpone a programme due to insufficient enrolment or unforeseen circumstances. In this case, the university will refund registration fee but will not be responsible for any other related charges/expenses including cancellation/change charges by airline and travel agencies. In case of postponement, the fee may be transferred to the rescheduled offering of that programme or any other programme as an alternate to refund. The University reserves the right to make changes in its programme policies and fees at any time.